Arnold Palmer, a celebrated golfer, once said: "What people find in poetry or art museums, I find in the flight of a good drive."
Golf is not an easy game to play, mostly if you play it for the first time. Sometimes it gets so frustrating that some people opt out immediately after their first trials. Others are so afraid to play the game because they fear that their lack of skills will embarrass them on the golf course.
Golf, just like many other sports, needs learning, practice, patience, and best of all, the right set of mind to master everything you need to know. One of the things that you ought to know is that even the best started with little or no knowledge of the game. It is hard for anyone to master anything without practice and putting his or her heart into it.
People play golf for various reasons. Some play because it is rewarding, challenging, calming, and even frustrating at the same time, while others play it because it takes their bodies and minds through the ultimate test of perseverance.
Some also play the game mainly for recreational purposes and for meeting other like-minded people. Business broke deals on the golf courses, people make lasting friendships on the greens, while others like tiger woods go on to become the richest sports persons.
Whatever the reason, it is a game that many players, irrespective of gender or age, fall in love with quickly because merely put, golf is a beautiful game to play. Today more than ever, younger people are joining the multitude of people that want to be the next Tiger Woods and Jack Nicklaus because besides being a fun game, it is also rewarding.
If you are a beginner and wish to know how to play golf, stay with us because, in this article, we take through a systematic guideline on how to become a golfer. Who knows, after learning these guidelines, you might even surprise yourself and start teeing like a pro.
Let us get started.
What you need:
1. Golf Equipment
The first things you will need for your first round of golf are golf equipment. The most basic golf equipment that you need is a set of golf clubs and several golf balls. Most beginners worry about how much it will cost them to buy golf equipment, but you do not have to bend over your budget to find the right tools to kick-start your game.
Golf balls
Do not begin by buying expensive golf balls because you may lose several of them in the roughs before getting the hang of the game. Start by buying balls that will cost you anything between $20 and $ 30 for a dozen pieces.
If you cannot decide which golf balls are best, to begin with, try hitting a few from different brands until you find the right ones for you. You can only proceed to buy balls that are more expensive after you stop losing several of them on the roughs.
Some of the local stores sell used golf balls but ensure that they are in good condition. You could also ask for help from other players with golf balls they no longer use or buy from trusted online shops such as Amazon. Our article on the best golf balls will also help you to choose the best balls for you as a beginner.
Golf clubs
Golf clubs are some of the essential tools for a round of golf. They come in different shapes, lengths, and sizes. If you are a beginner, you need the required maximum of 14 clubs for a round of golf.
Start with a set of five or slightly more that include a 9-iron, 7-iron, a sand wedge, gap wedge, and a putter. As a beginner, you may not know where to buy individual clubs, but the following places may be of much help. Your local sports shop should be the first place to begin your hunt for respective golf clubs.
In most cases, beginners do not know the right clubs to start playing with, and if you are one of them, do not shy away from asking for help. A salesperson in your local sports shop that knows a thing or two about the best clubs to start with for your first round will help you to choose wisely.
The most critical parts of the golf club are the shaft and the clubhead. The clubhead should have perimeter weighting provided by cavity backing for stable swings and easier learning. The flex of the shaft will determine if the grip is the right one for you. It will also help more if you try to feel the golf club's grip by trying to take a swing with it before making a purchase.
Buy online where you may find even lower prices than the ones offered by your local superstore. If you decide to buy online, use only trusted sellers such as Amazon. You could also look for someone to help with old golf clubs that are still in good condition.
Always remember to seek help from a professional golfer or anyone with golfing skills to help you choose the clubs. You can also read our article on the best golf clubs to help you select the right for you as a beginner.
Golf attire
It is crucial to know the correct golfing attire before you start your lessons. If you are using a private golf club or learning at your local municipal club, you may get away with a wardrobe that you choose to wear. However, some golf clubs have strict dress codes that you have to adhere to before allowing you to play on the greens.
Many of the clubs require that you wear a lightweight shirt with a collar. The shirt should also have a material with moisture-wicking properties that help to keep you dry as you take your swings. You can find the shirts in many of the sports shops, and they come at affordable prices.
If you are a lady golfer, you also need to make inquiries on the right attire to avoid going to the course with a summer dress or concise clothing.
Besides the clothes, you will also need the right golf shoes for your practice. Golf shoes come in different varieties from several brands with the best having breathable features to keep your feet dry and odorless. Some come with spikes to help with traction, while others are spikeless.
You will also get golf shoes that come with waterproofing features, while others are not water-resistant. Waterproofed shoes come in handy if you have to hit a ball off a pool of water or if it rains, and you have to continue with the round. Golf is not an easy game, as it requires lots of walking around the golf course.
Your feet need to feel comfortable as you practice, and wearing the wrong type of shoes will leave you with sores and blisters. Depending on the weather, you can accessorize your attire with sunglasses, a hat, a cap, a jacket, or a sweater.
Overall, comfort is the main factor to consider when choosing the right golf attire to wear for your lessons. Without comfort, you will not be in an excellent position to make good swings.
2. Swinging The Golf Club
The next important part of learning how to play golf like a pro is learning how to swing the golf club. Swinging the golf club does not come easy for beginners, so it is essential to seek help from a professional golfer.
Hiring a professional golfer to show you the ropes may cost you a few dollars, but it is worth the effort and the money. Some people also learn the basics from friends and family that have more skills in the course.
You could also find out if your local golf course offers golf classes or clinics for beginners. Finding a mentor is vital because you improve on swinging, making your learning curve shorter than going at it on your own.
Consistency matters
Learning a golf swing comes easy for some beginners, while for others, it takes a while to learn the drift. One of the reasons is that different clubs provide different swings. Swinging a golf club for those with difficulties is not something to learn in one hour, which means you have to have patience and consistency until you get it right.
Take at least six weeks of practice before you start to call yourself a golfer. After each lesson, practice some more swings on your own to lessen the learning curve and better your grip on the golf club. Work on pre-shot routines after you fully understand your swing to gain more consistency.
Another thing that will help you with consistency is to visualize each shot before you swing the golf club. Visualization allows you to understand the golf club on your hands, turn your shoulder in the right direction, flex the legs in a solid base, and show you the correct flight.
3. Learn How To Play The Game Of Golf, Some Basics, And Terminologies
Know just the basics about golf will help you to understand it better. The basics include knowing how to use your golf club to hit the ball, make the swing, best posture to use for a good hit, and a few others.
You do not have to read the complete golfing guidelines, some of which may be beyond your league and skill level, but you need to know some of the most common golf terms. You do not have to sit down in a classroom to learn the terms, but you can do so to continue to learn golf on the course.
You do not need to know a lot when you are first learning how to hit the golf ball. You will rarely be heading out on the golf course for the first time without ever hitting a club.
However, after taking some lessons, hit balls at the driving range, you may go out and play a bit on a golf course. Again, it is easier to learn the terms with a professional or any partner that knows more about golf than you do.
Ball positioning
Another essential thing you should learn is how and where to position the golf ball because it helps determine the flight. If you do not set the golf ball on a proper spot, its correlation to the target line may not produce positive results.
The ideal position to place the golf ball if you are using an iron golf club is in the sternum center for a proper upward swing. If you position the ball you far from the center, you will make it susceptible to hook and slice flight paths because of flying too low after weak contact.
The club you will use will help to dictate where you place the golf ball. The best option is to practice with different clubs until you get the ball's right positioning for an upward swing.
Learn The Distances To Achieve With Each Type Of Club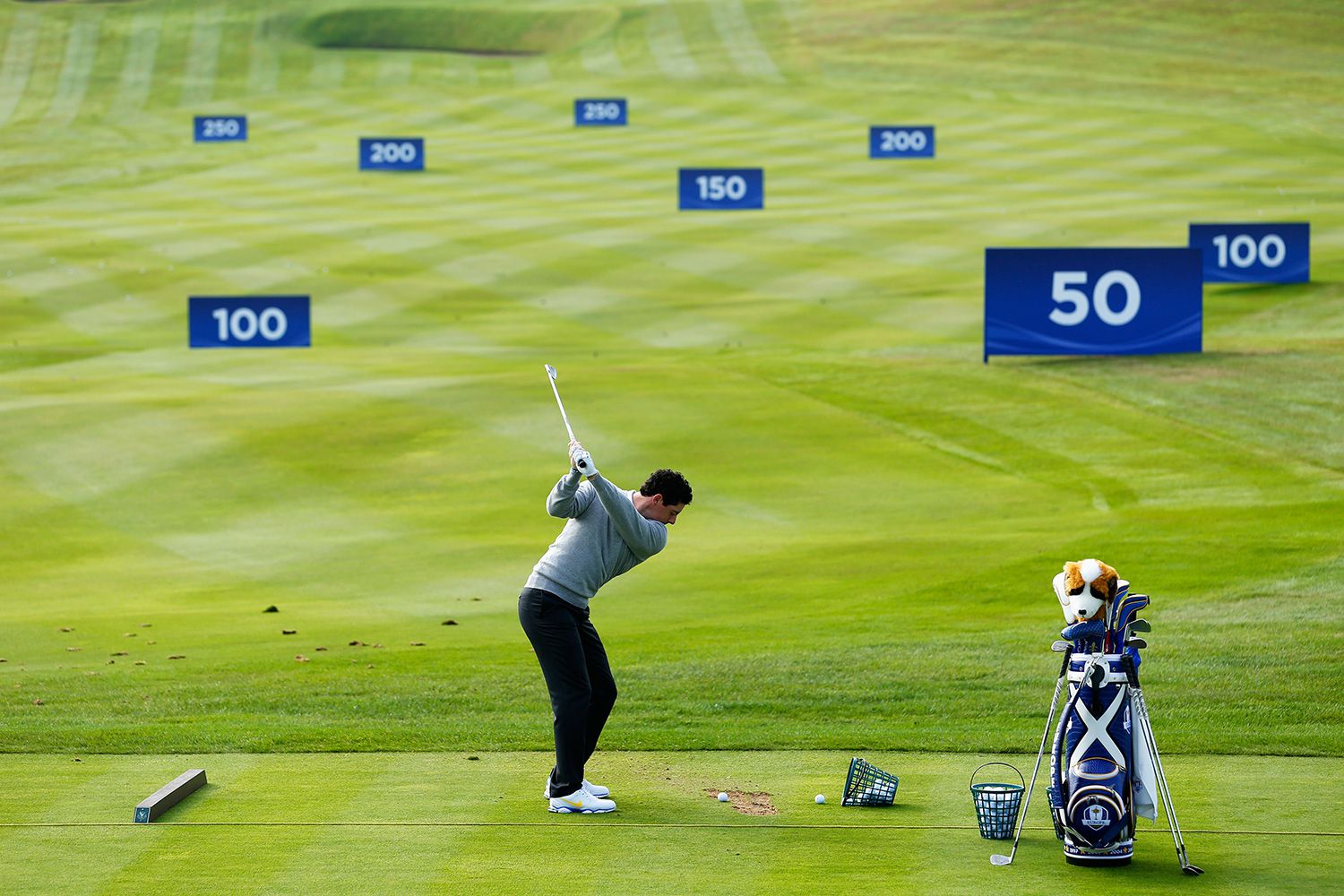 It is not easy for a beginner to learn the lengths they will perform with each of the golf clubs, but eventually, they get there as their strength and skills grow with more practice and lessons.
The most crucial factor to take a keen interest in when growing your swing is the yardage area where your shots land more often. Study the structure of each hole and start to adjust your swinging style, using different clubs. Knowing your clubs well also helps to save par and accelerate the learning period.
Mastering Your Grip On The Club
Learning how to master your grip on the golf club is another primary essential factor that will help you to improve your swings. The putting grip is different from other grips, and since putting is the one you will use most for your swings, you need to master it well.
Grips come as traditional, conventional, split-handed grip, claw-grip, or cross-handed grip. One of the most popular players of our time, Tiger Woods, uses the traditional grip, while golf pros such as Gary Player, Arnold Palmer, and Jim Furyk popularized the cross-handed grip. Please consult with the person training you to guide on what they think would be your best grip before you settle on your grip type.
Body Posture
Maintain the correct posture will provide you with more balance as you take your swing. The proper posture includes bending from the waist, which gives you balance to allow the golf club to follow your body's natural curve.
You also want to feel as natural as possible when hitting the ball and still allow your back to maintain a straight line for a comfortable posture. If you slump your upper body when taking a swing, which is a mistake many beginners make, you will become inflexible because your back will be rigid and locked.
On the other hand, a straight back will help maintain balance throughout your play on the golf course. Also, allow your feet to be shoulder wide apart for better engagement and takeaway. Once you have a stable foundation on the ground, your hips will provide more clearance for the clubface's squaring at impact.
Feet Positioning In Relation To The Golf Ball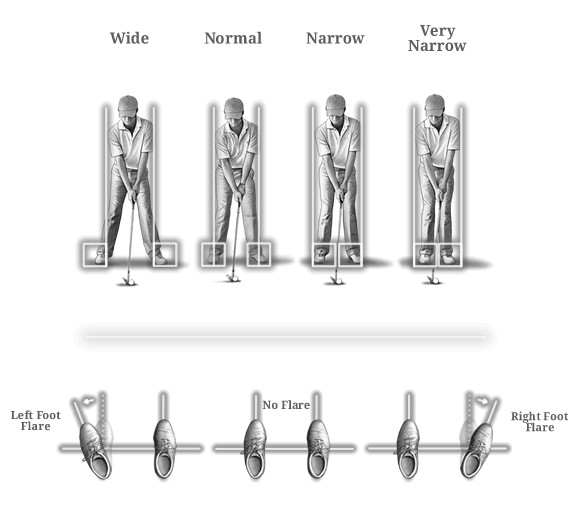 Several golf beginners have no idea how the positioning of the feet relates to the golf ball and how it affects the swing outcome. If the golf ball sits higher than the feet, you may end up pushing it left of the target line.
On the other hand, if your feet are higher than the golf ball, you will most likely hit the ball to the target line's right. In this case, you will need to find the best alignment and adjust your feet' positioning in relation to the ball position to keep your swing aimed at the target line.
Learn The Rules Of Golf
It is essential to learn the rules of golf before you become a regular golf play. Golf is a game with some of the strictest regulations in the sporting industry. However, that does not mean that the rules are hard to adhere to even for beginners. The best starting point would be to grab a copy of golf's USGA rules and go through the basic ones before proceeding to the more stringent regulations.
Another reason why it is essential to know the rules is that once you become a regular golf player, playing in the big leagues, you will need to keep score of your achievements. You can only do so by learning to calculate the scores, penalties involved, and more. Some beginners assume that it is okay to kick golf balls from anywhere they land.
Some beginners also assume that it is okay to putt a short distance ball than to hole the ball. Playing by the golf rules is very different from many assumptions many beginners have of playing the sport. It may even surprise you that playing by the rules is even easier than hitting the ball the way you feel is comfortable with you.
4. Chipping
Another area not taken seriously by amateurs and beginners is how to chip shots to shave shots from their scores. Chipping is not the easiest thing to do, which is probably why beginners and amateurs find it less attractive than hitting long drives of draining several putts. However, efficiency in chipping around the hole is just as important as any other swing is in improving your golf. How do you make the perfect chipping?
Maintaining a unique and firm grip on the club helps provide better contact for the perfect chipping. A weak connection from a thin shot is hard to control and ends up as a bad hit away from the target.
When holding the club, use your putting grip to help alleviate the issues that cause lousy chipping. A grip that provides comfort as you swing also helps create more confidence and on the target hits.
Maintaining firm wrists also helps to prevent weak contacts when chipping. Always use the strong wrist when hitting the ball, keep them firm, and ensure that the clubface faces down. Failure to keep the club faces down, wrists firm makes blades, and chunks get in your chipping way.
Focus more on speed and the distance of the hole than you would on making the putt. Once you get the picture of the hole in the head, you will be better positioned to putt as close to it as possible. It will also help if you find a comfortable range around the hole for taking your putts.
You could start by placing the balls three feet apart on each side of the hole and try to fit your chips inside the three-foot circle. With time reduce the circle distance, be consistent, and you will improve your putts' length. Chipping comfortably also helps to lower your scores fast.
5. Play On A Real Golf Course
Once you have the basics at your fingertips, now it is time to play in an actual golf course with other more skilled players. If it is your first time to play a real game, ensure to arrive at the teeing ground slightly more than 30 minutes earlier.
Use the time to ensure that you have the right golf attire and have golf balls, clubs, cart fees, and course fees ready. You could also use the time to warm up your body in readiness for the game. Practice with a few balls to get your swing right before the start of the round.
Make your body as flexible as possible by stretching to loosen your hamstrings, back, arms, and calves. Flexibility helps with balance, which in turn provides you with confidence and consistency when making the swings. On the other hand, if you hit the greens with a stiff body, you will burn out faster and have lousy swings.
If you have the opportunity to choose the type of golf club to start your first actual game, choose a 9-hole course. An 18-hole course is challenging for a beginner because of the distance covered to hit it to all the holes. You can even start with a par 3-course, which is even more fun, to begin with, if it is your first time.
Another crucial aspect of ensuring that you take care of before the game starts is your food and hydration. Golf is mainly a warm weather sort, which means you may sweat a lot during the round. Ensure to keep your body hydrated well throughout the game. If you are playing a 9-hole round, 12 ounces of water is good to keep your system hydrated well for the complete round.
Pre-round meals that include lean proteins are the best foods to have before hitting the greens. If you have a morning round, eat fruits and cereals for your breakfast for that extra energy. If you can, avoid sugary drinks and foods with high contents of fats and salt. Low sugar protein bars are a better snacking option if you feel hungry in between hits on the course.
Your primary purpose on the first attempt in a real golf course is not to make any scores but to have fun and check your learning progress. Even if you are not playing competitive golf, but you have other people playing alongside you, do not drag down the group.
Play ready golf at all times because any laxity will have the others complaining and putting the game into extra time. A round of golf on an 18-hole course takes between 4 and 5 hours to complete. The hours are a long time to be on the feet, which is why you always be ready to begin your pre-shot routine immediately when it is your time to play.
Remember, patience, consistency, and enjoying the game are most important at this stage. It may even take more than a year before you finally have the confidence to play competitive golf. Before then, enjoy playing the game and improving your swing.
6. Enjoy The Learning Curve And The Game Of Golf
Finally, after you are sure you have everything memorized in your head; enjoy the fun of playing golf. It is always thrilling to hot the first hole without many misses. You may be wary about the many things you will need to remember, but the best thing is to visualize what is in front of you by clearing the mind of everything else.
Do not rush the game but take one-step at a time because if you get too eager to hit the hole, you may end up frustrated. Remember to be courteous, friendly, and respectful of the course. If you still have any questions, do not hesitate to ask and, most importantly, continue learning golf and etiquette rules as much as you can.
You have to remember that which will motivate you to gain more confidence is that the people playing with or around you were at one time or another just as green as you are. They, too, went through lessons, and they are where they are because of hard work, consistency, confidence, and great minds.
Case study – Bubba Watson
One of the questions that some people that want to get into golfing ask is if it is possible to learn the game without taking lessons from anyone. 
The answer is yes, it is possible to learn golfing all by yourself. At one time or the other, though, you will need to practice on a real golf course, and you may need to learn one or two things from experts. You can also learn from watching how-to golf videos on YouTube, read eBooks on how to play golf, and listen to professional podcasts.
One of the most celebrated professional golfers, Bubba Watson, a two-time major winner, never took golf lessons from anyone. Even though this is not to encourage you to take the same course of action, Bubba's story is worth sharing for anyone that d wants to go at it alone. Watson worked his way to being one of the best by being creative.
During his childhood days, Bubba created intentional obstacles to help him work his shots using the golf ball. The inventive barriers included couches, chairs, and lamps around his sitting room. When he went outside the house, he continued with the same spirit by choosing trees as his obstacles to help shape his shots.
Bubba mastered the art of hitting low and high balls around trees, allowing him to perfect his ability to hit a perfect shot from anywhere. Watson is most famous for using a single club to play complete rounds. Challenging himself to be unique is what made Bubba one of the best players in golf history.
Besides his creativity, Watson also enjoyed having fun when playing the game, which is the best takeaway for any golf beginner on the greens today. A positive mindset will make you go further than anticipated.
Wrapping It Up
Golf may be a challenging game to learn, but once you get its hang, you will realize just how easy and fun it is. However, you will need to choose the proper equipment, the right person to take you through the ropes, and a golf course that will make your learning curve easier.
Follow all the tips, dress appropriately, have a positive mindset, be consistent, use your power of visualization, and before you know it, you will be swinging that golf club and hitting the ball like a pro. Remember to take one-step at a time and enjoy the game.
If you have any questions to ask on how to play golf or any additions to make, you can contact us, and we will respond.